Coronavirus Pandemic Increasingly Likely. How Can We Prepare?
Written by Jonathan Hill on February 23, 2020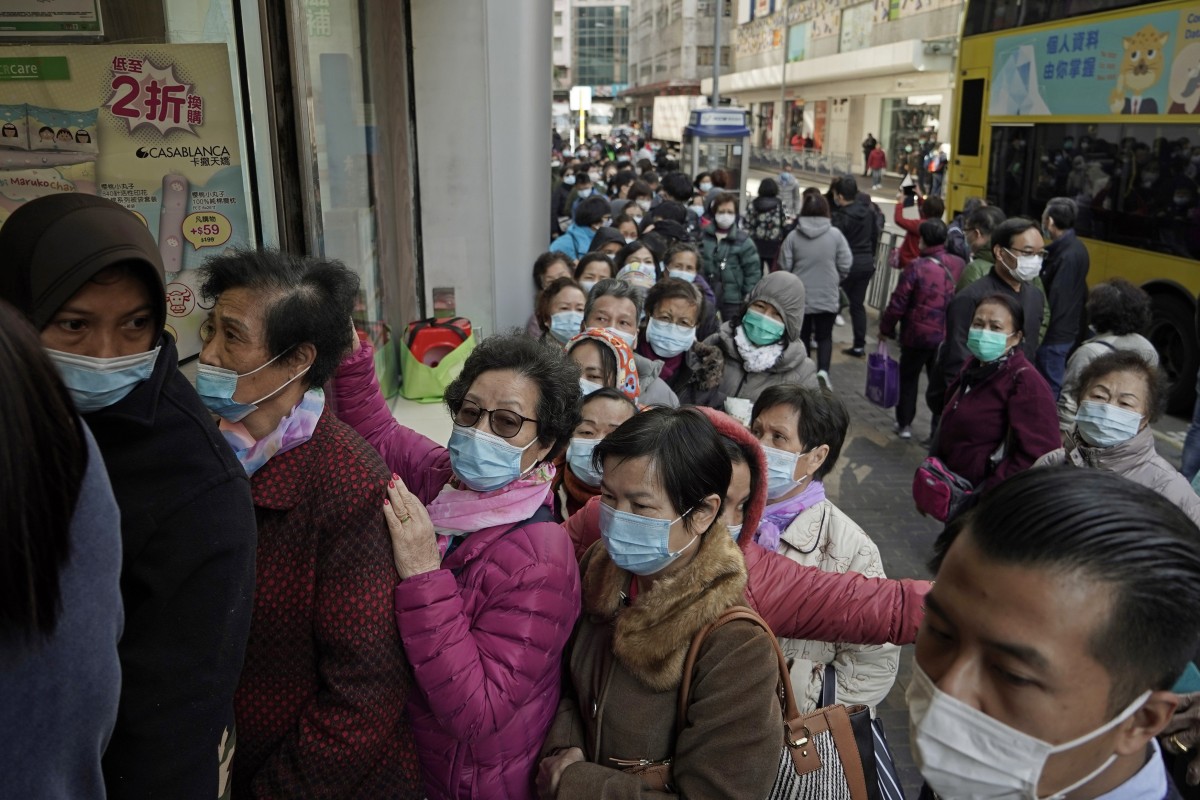 Months-old Epidemic in China, Now Appearing Elsewhere
China first reported the outbreak of coronavirus to the World Health Organization on December 31st, 2019, but evidence suggests the outbreak began in early December or earlier. It is now spreading worldwide, having appeared in Korea, Japan, Europe, Iran, Lebanon, Israel, and other nations. It is likely to become a pandemic.[1] People who have not been to China are getting the virus, as was the case recently for the first Europeans to die from the disease — two people in Northern Italy.[2] There, businesses, public gatherings, and public Catholic Masses are banned to slow transmission of the virus. Two days ago, the Center for Disease Control (CDC) announced that there are 35 confirmed cases of coronavirus in the United States.[3]
During the 1918 flu pandemic, towns and cities virtually shut down for up to three weeks. Few would dare venture outside. Virtually all businesses in affected cities shut down.[4] The same is happening in China now, where shocking first hand reports paint a grim picture.[5] Even the capital city of Beijing resembles a ghost town, per first hand reports. It appears that the Chinese economy has virtually shut down. Oil tankers are anchored offshore, as the shuttering of Chinese factories and other facilities has collapsed demand for oil.[6]
Given the evidence of how the disease has spread elsewhere and the aggressive measures that have been employed in the hopes of containing it, we need to consider being prepared for a lengthy quarantine in our homes.
The CDC is now warning that businesses and schools in the U.S. may have to be closed in the future.[7] As for how long such closures might be, who knows? Given the extreme situation we see in China, it could be months. Their, first cases may have became known in early December or earlier – we may never know for certain, as the communist government has been less then forthright.[8] The Chinese capital, Beijing, a whopping 650 miles from the virus epicenter, Wuhan, is also like a ghost town. China has been brought to a near economic and social standstill. How can we safely conclude this won't happen here, and for an extended duration, as in China?
Already, major corporations (e.g. AT&T, Verizon, and IBM) are pulling out of conferences and events on the West Coast due to Coronavirus fears.[9]
Thinking Ahead
We should consider buying the supplies to endure in-home quarantines for 3 months, as China has now been experiencing upheaval for about two months, with an end presently not in sight. During a pandemic, going to supermarkets and other locations where the public gathers is a high-risk move. This is especially true if someone in your household has an underlying condition or comprised immune system. They are especially at risk from the Coronavirus.
Getting the necessary supplies now, while things are still relatively normal, can be an advantage. Once public alarm occurs, there could be a rush on supplies, as well as shortages.
Doctors rightly point out that we have more tools and knowledge to fight a pandemic than we did in 1918. We have respirator machines, antibiotics, and Tamiflu. But, according to one doctor who was recently written up in The American Conservative, and who has been sounding the alarm on this, we are 100% dependent on China for many drugs: antibiotics, blood pressure meds, saline bags, cardiac IV meds, diabetes meds, and others.[10] Also, in a large-scale pandemic, the medical infrastructure will likely be overwhelmed. The implication seems to be that we cannot exclude something like the 1918 event or worse happening.
There are already shortages of medicine in Germany. One pharmacist there reported that he is turning customers away multiple times a day without their prescriptions, for critical drugs like cancer meds, etc.[11] A doctor from Wyoming is reporting shortfalls[12], and supplies like masks are a challenge to get (my N95 rated mask order from China has been delayed since early February). In Hong Kong, there is panic buying of supplies like toilet paper.[13]
It may therefore be wise to stock up on medications that you need. In some cases, you can order a three month supply from pharmacies, or when pharmacies cannot offer you that much supply, you may be able to purchase through mail order firms.
Maybe as the weather warms up, the Coronavirus epidemic will recede, but who can say for sure? It's best to be prepared, by being in a state of grace, staying close to the sacraments and Our Lord, and taking all prudent measures that we should.
Pray and Prepare, But Don't Panic
None of the above should be a cause for panic. Rather, it can provide the opportunity to use the means that God has given us to do our part to provide for ourselves and our family. We should use the above information to discern what God is calling us to do in this situation. His plan is always perfect, so we should endeavor to trust completely in it. Once we do our best, in a spirit of prayer, to estimate what that plan is, then we should move forward to implement that plan with confidence.
The mediation of Saint Joseph, the protector of the Holy Family and Patron of the Universal Church, is known to be powerful, and should be invoked in times of crisis such as we have now. Please consider the 30 Day Novena to Saint Joseph as part of your efforts to get through whatever trials you and your family will be facing in the future. It can be prayed individually, or preferably, together with the entire family.
Saint Joseph, intercede for us! Immaculate Virgin, pray for us!
---
[1] According to Dr. Mike Hansen, a board certified Pulmonary specialist from Fort Wayne, Indiana, the epidemic is likely to become a pandemic. He made this comment on February 16th in a video he published. Since then, public health authorities in many more nations have announced cases of the virus in their countries, making his earlier assessment more likely. Click here.
[2] Coronavirus aus China: Erste Europäer sterben an Sars.CoV-2 und CoVid-19-Infektion (Coronavirus from China: the first Europeans die from Sars.CoV-2 and CoVid19 infection), Welt, 2/22/20. (English subtitling may be manually selected. First select "CC" and then click on the gear symbol to change the language from German to english.) click here
[3] "CDC Has Confirmed 35 case of Novel Coronavirus in the US, Michael Nedelman and Ben Tinker, CNN, 2/21/20." Click here.
[4] 1918 Spanish Flu historical documentary: Swine Flu Pandemic; Deadly plague of 1918. Click here.
[5] Leaked videos from China. Warning: This is not for the faint-hearted! Click here.
[6] "Tankers, Tankers. Everywhere!" – Virus Causes Historic' Traffic Jam' Across Asian Supply Lines, Zerohedhge.com, 2/15/20. Click here.
[7] CDC announces new plan to prevent further spread of coronavirus in U.S, 2/21/20. Click here.
[8] Interview with China expert Steven Mosher of the Population Research Institute. He points out that the outbreak probably started in November, and that long before the Chinese government deceitfully admitted they had a problem on January 20th, Chinese universities many miles away from Wuhan in Shanghai were warning people to take precautions against a raging epidemic. He estimates that the real number of Chinese infected is more likely around 1 million. LifeSiteNews, 2/20/20. Click here.
[9] "Verizon just became the third major sponsor to pull out of one of the biggest cybersecurity events of the year over coronavirus fears," Business Insider, 2/21/20. Click here.
[10],[12] A Wyoming doctor is quoted on our dependency on China for medical supplies. "Plague Pushes China To Breaking Point," Rod Dreher, 2/8/20. Click here.
[11] Coronavirus: Medikamentenmangel (Coronavirus: Medication Shortage) "Made in China," BR24, 2/16/20.
(NOTE: English subtitling may be manually selected: First select "CC", then click on the gear symbol to change the language from German to English.). Click here.
[13] Panic buying in Hong Kong, Deutsche Welle, 2/18/20. Click here.
Catholic Citizenship Disclaimer
The views, opinions, and recommendations expressed in this blog post are those of the author; they do not necessarily reflect the views, opinions, and recommendations of any affiliated person or organization. (Click Here to see full disclaimer).
---
Reader's opinions
---